Continuous Productive Urban Landscape (CPUL) is a framework developed by Andre Viljoen & Katrin Bohn for the coherent integration of urban agriculture into urban space planning. Their strategy makes a case for considering urban agriculture as an essential element of sustainable infrastructure.
Using the framework and extending the idea of 'productive' that is (beyond urban agriculture), The project "Unlocking Voids" is re-imagining sector as a continuous network of productive spaces that can bring environmental, social and economic benefits, linking through a pedestrian infrastructure. To achieve this spatial integration and continuation, the proposal makes guidelines for public land, street design and existing typologies. And together the integration can bring fragmented open spaces into a continuous resilient system.
City Level CPUL Strategy Plan
Therefore, the overall strategy at both city and sector level is to program these vacant spaces to become places of leisure, ecology, food growing and energy along with certain percentage for built. The overall aim is to make a robust proposal for productive use of land which can bring nature into everyday life of inhabitants offering a range of advantages.
The XL Plans attempts to stitch the land parcels and unused areas from the street network and then transform them into productive areas. The continuity establishes a green corridor that supports bio- diversity and on a larger scale create positive environmental impact. The Catalogue for XL plan shows the types of productive use that could be integrated into land parcels. The productive uses are energy landscape, Playful landscape, Farms landscapes, Forest Landscape, Transitional Landscape, Blue Landscapes and Vertical landscapes.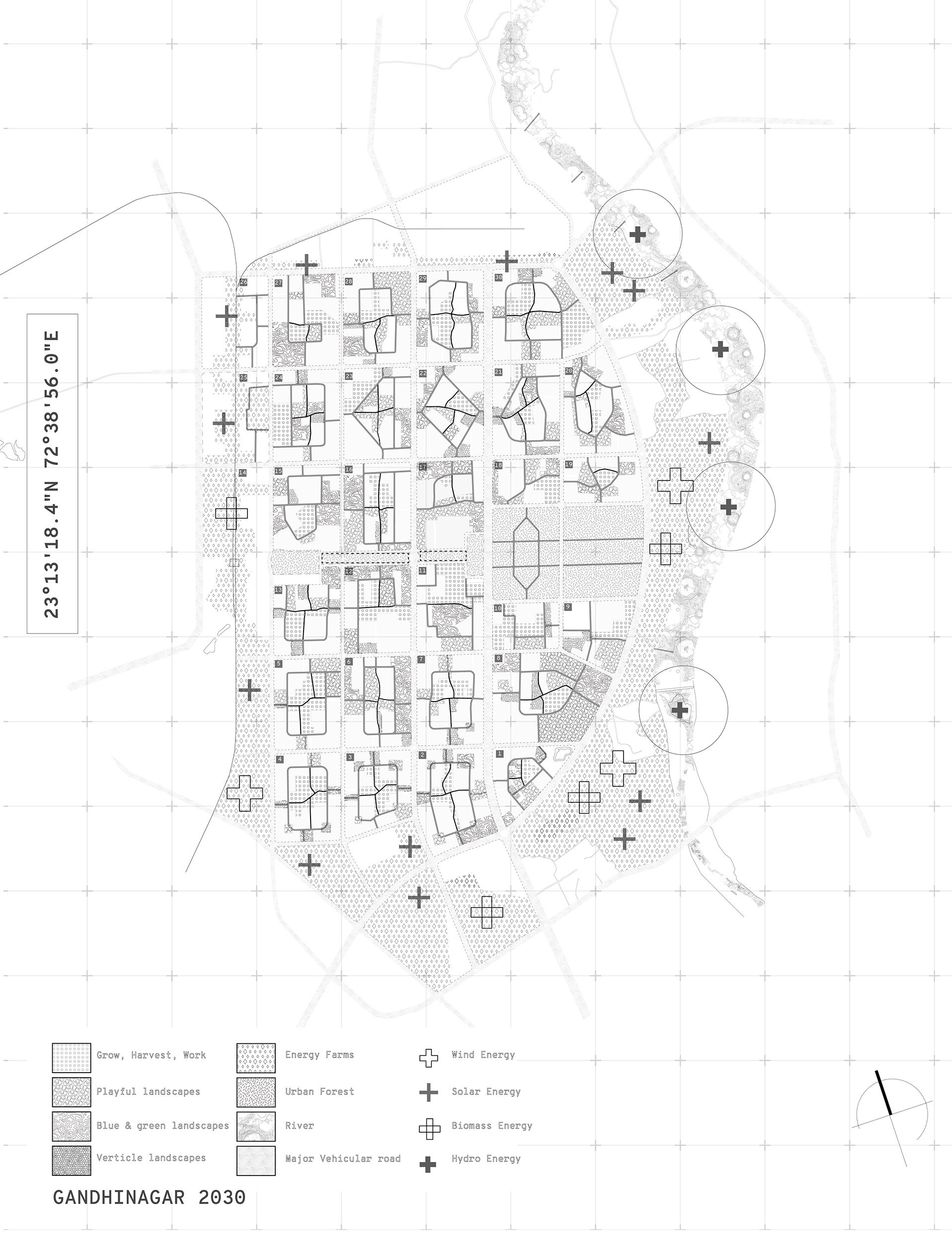 City Level Catalogue and Typologies
There are 3 parts at the city level strategy
Public lands or vacant patches that becomes productive in terms of social, provisional and ecological services.
To Create a continuous stitched productive corridor through street network so that the street also becomes productive and establish a green loop.
To work on the existing typologies by retrofitting and Introducing Vertical food towers so that both the planes ground and façade are linked and integrated for productive use.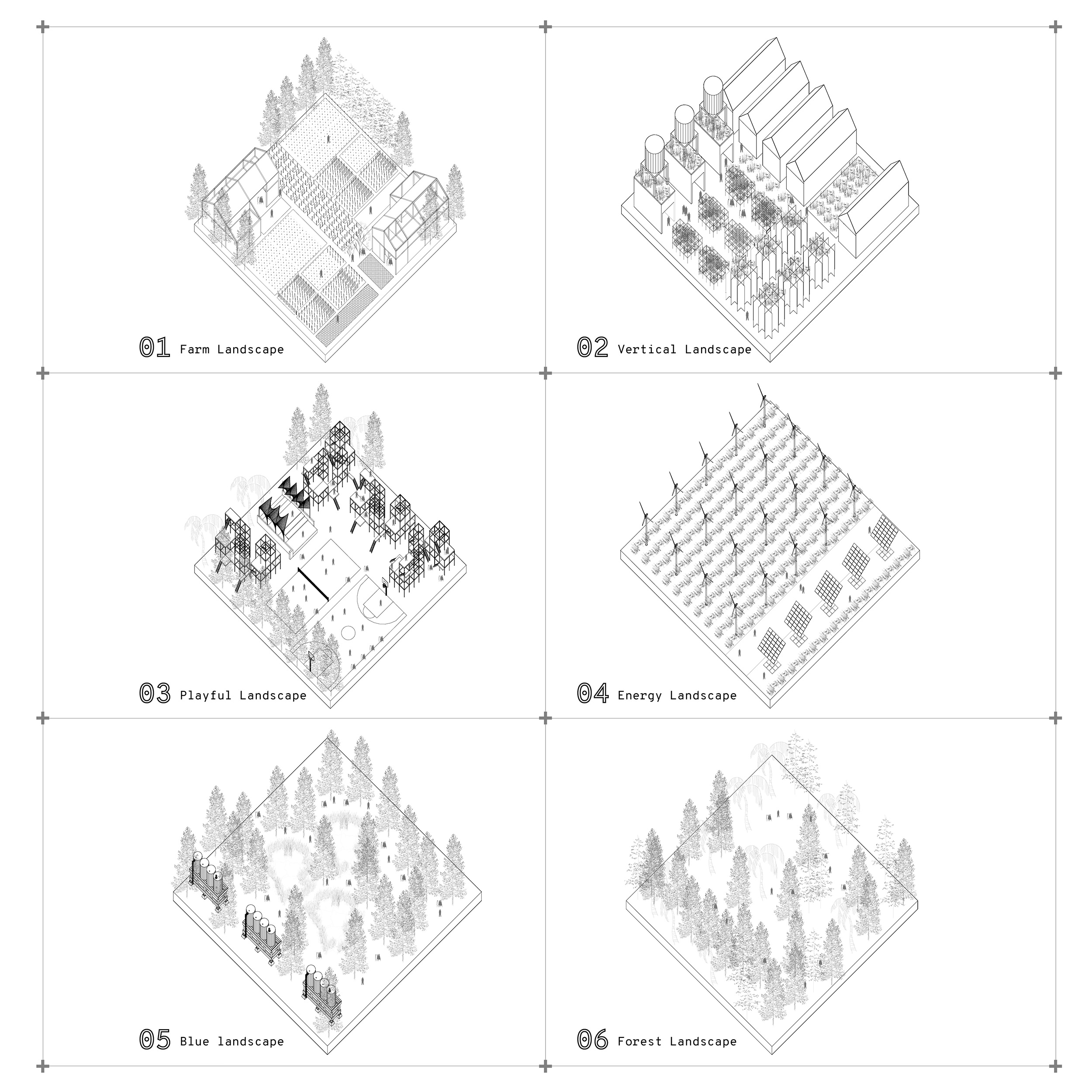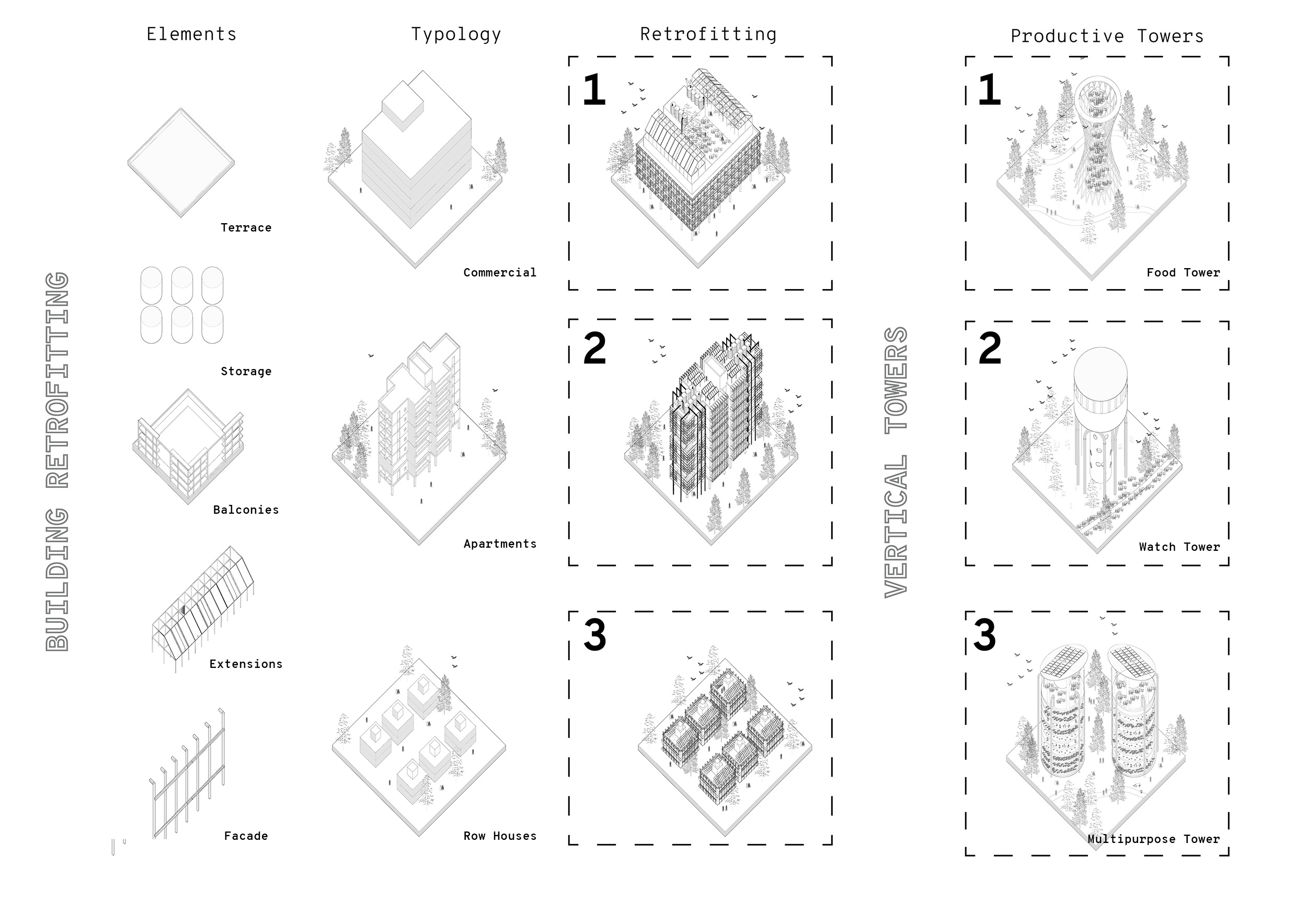 Sector Level Plan
At the sector level the existing condition of public lands are just large pockets of vacant lands with some wild vegetations. The Typology throughout this sector is more or less similar and is majorly residential. For the public lands Gandhinagar development authority has allocated uses for the vacant property for example institutional, religious, cultural, tree plantation, and reserved areas for future development.
Existing Site Conditions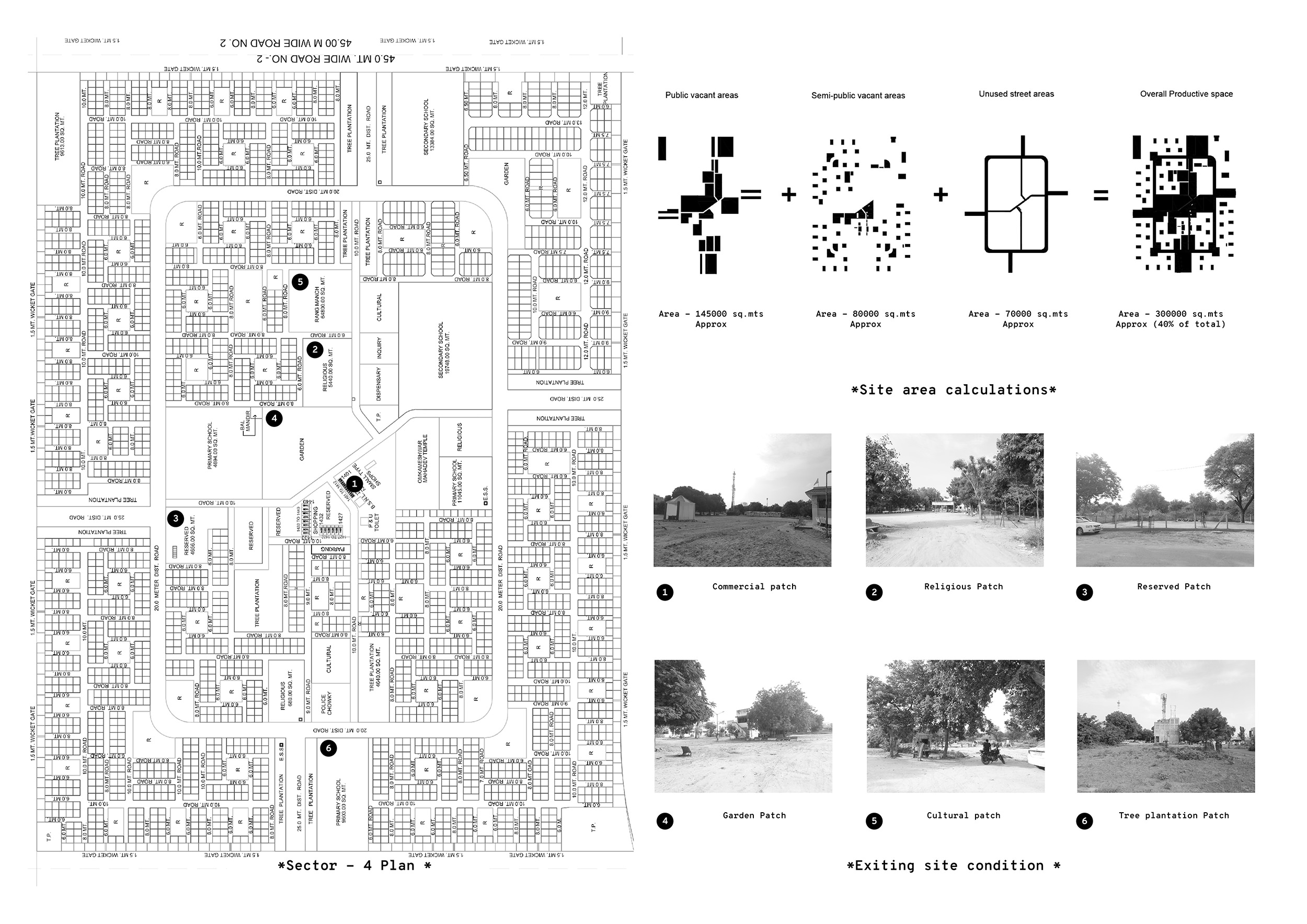 The plan at the sector level represents strategic accumulation of vacant property and turning it into productive area. It shows how the distributed vacant plots are now integrated through a green corridor that is productive in ecological, economical, social and cultural aspects. Overall, it attempts to create a huge positive environmental impact that captures carbon, provides for inhabitants and enhance public spaces.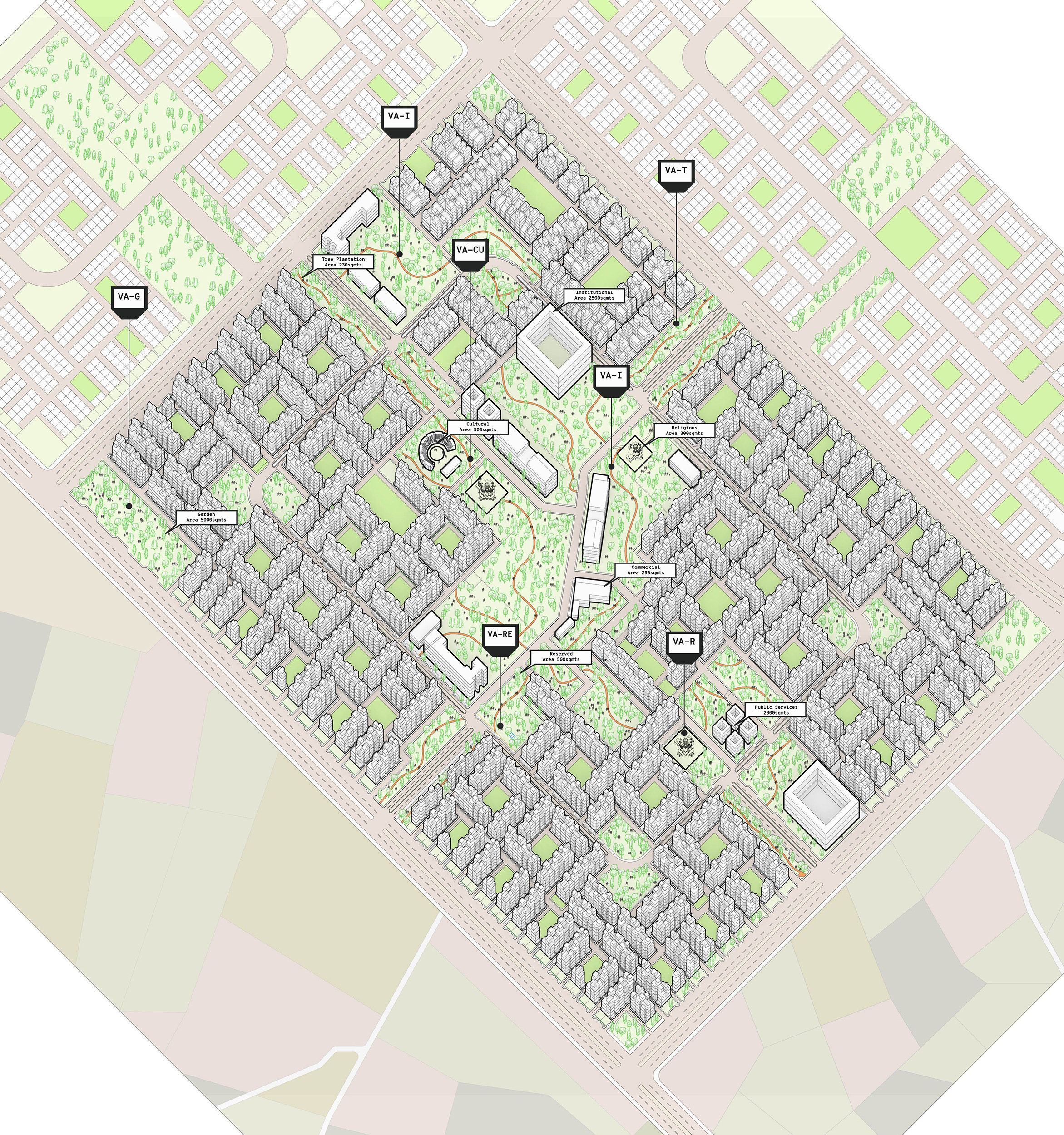 Developing a Toolkit
The project explores how diversely it can support new ways of life in such types of neighbourhood where large empty pockets could become huge potentials. The project intervenes on the public-private vacant land and develops a set of possibilities that are best suitable for the programmed vacant lands. Overall, it attempts to achieve long-term returns and supports the provision of local services and utilities to create an environmental and financial resilience. The Toolkit/Set of possibilities is presented as a catalogue for dealing with different typologies of vacant land and provides Ecological, Edible, Social and Supporting services.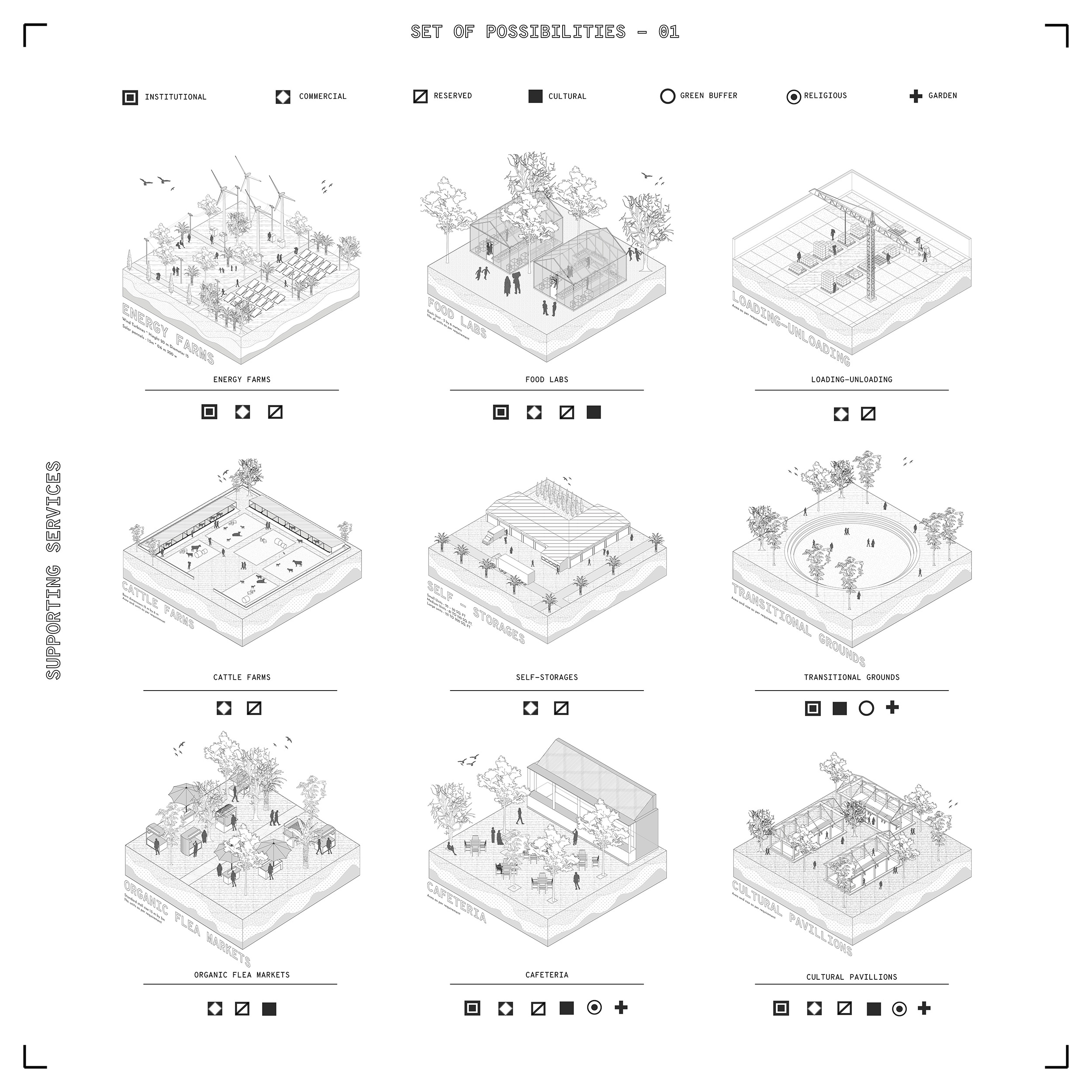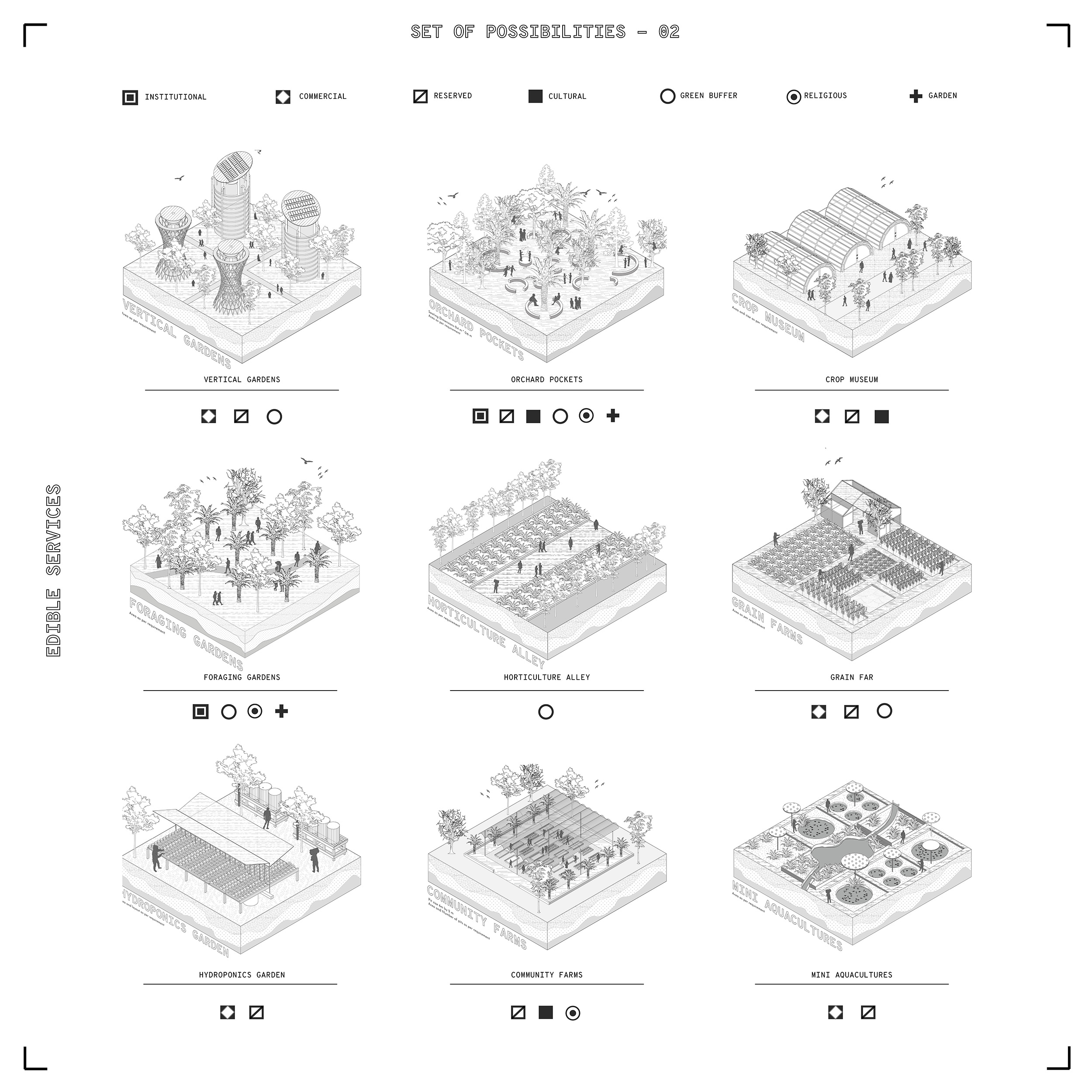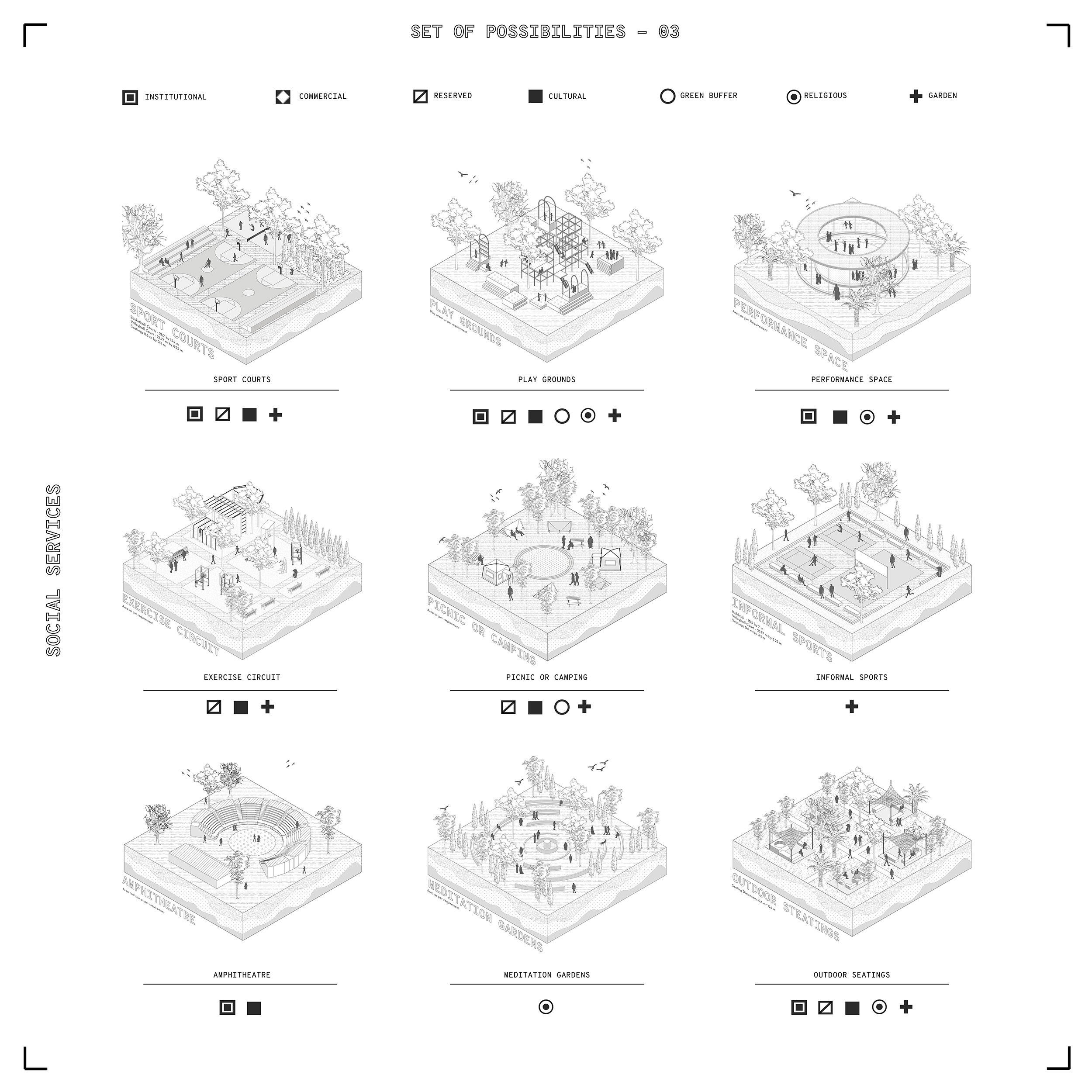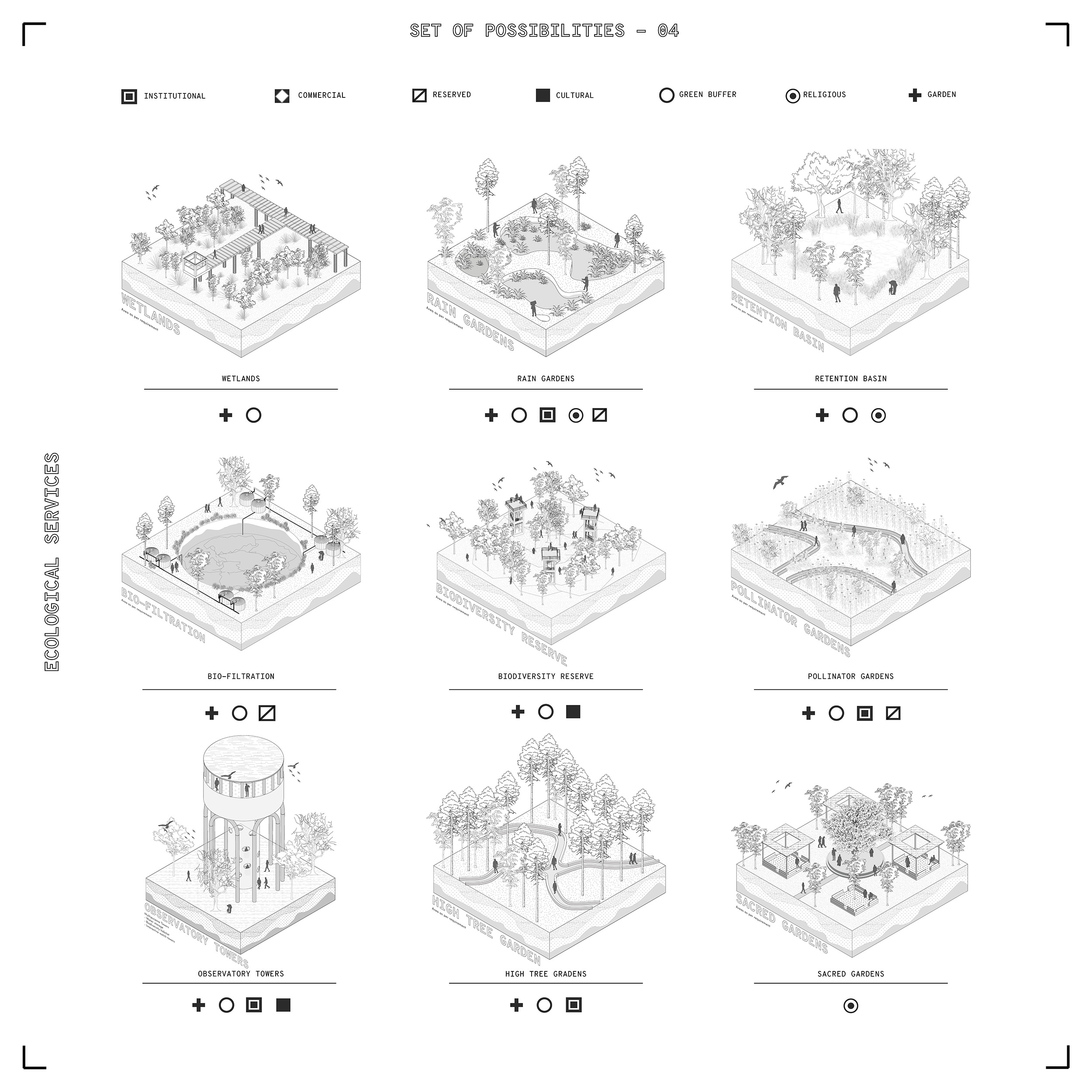 Part Axonometrics
Moving towards the end this project visualizes the spatial intervention on three vacant patches i.e Garden, Institutional and cultural.
1. Garden Patch – Shows the integration of exercise circuit, Retention ponds, Cafeteria space, urban parks and sport areas that provides in terms of ecological, supportive and social services.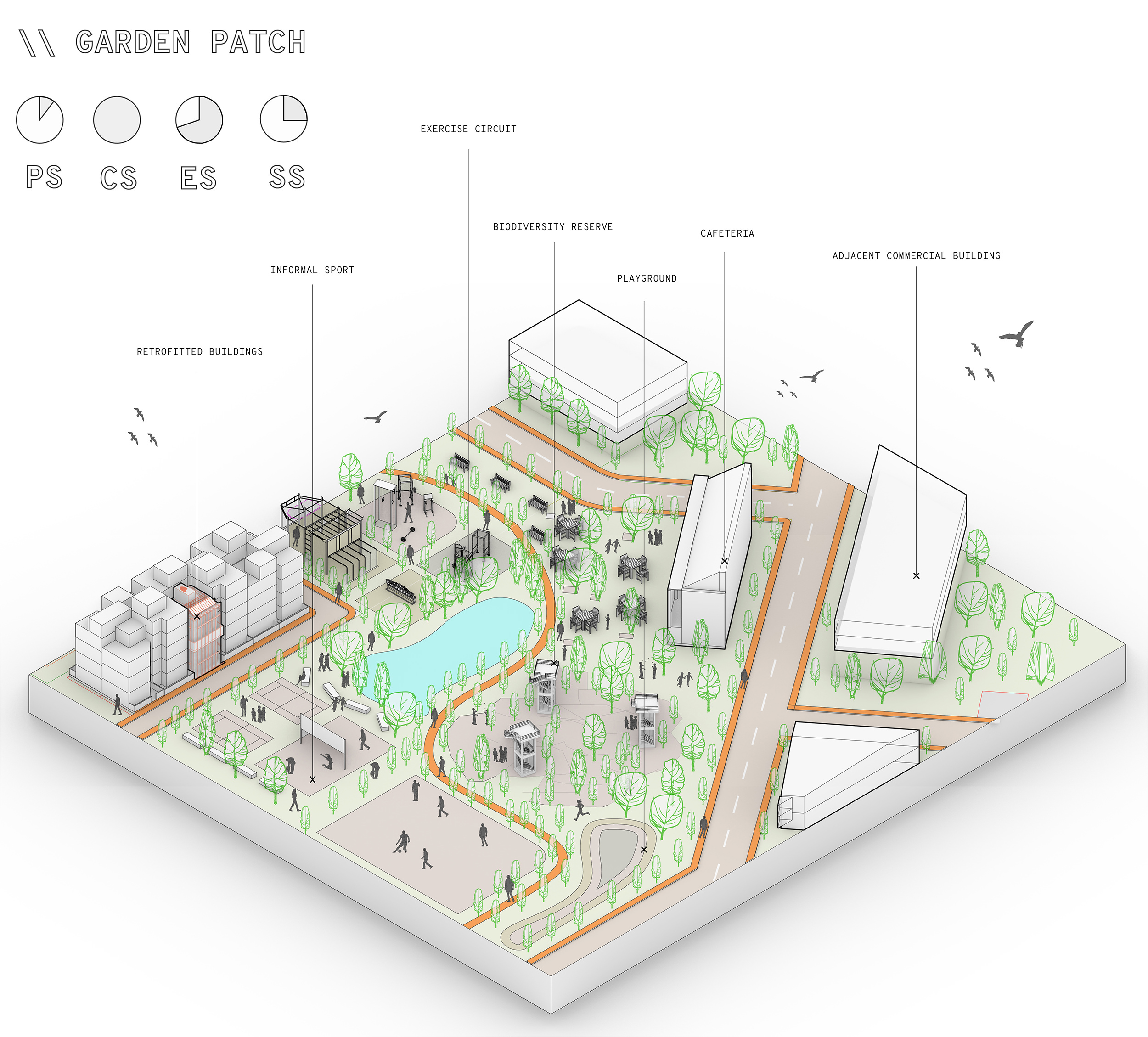 2. Institutional patch – Speculating the built in such types of vacant land there is still 40 – 60 % of vacancy that will become the residual space. Visualization shows the integration of orchard pocket parks, food labs, sport courts, energy farms and play area it provides more in terms of supportive and social services.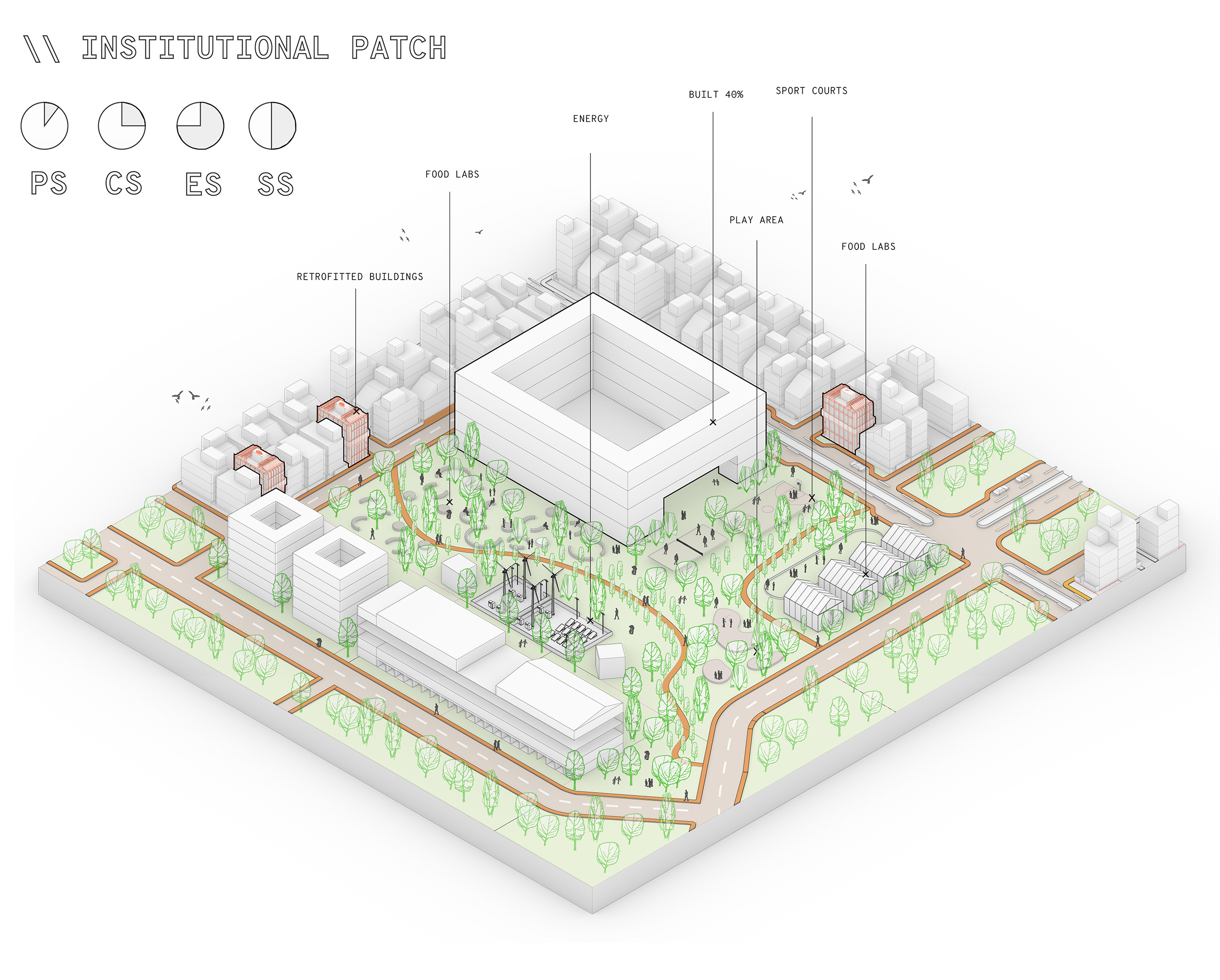 3. Cultural Patch – Such types of designated spaces are widely present in the city. They are majorly allocated for "Rangmanch" that are open air theatre. The patch shows the integration of transitional grounds, cultural pavilions and crop museum that provides for majorly social services.