Crop Patch +
by Sakshi Sharma
Introduction
Gandhinagar city is known for its open spaces in both public and private domain. Some of these spaces have existing social and ecological significance but many of them are vacant and underutilised. The XL plan shows various open spaces in Gandhinagar, in which they are either completely vacant or have an assigned social or ecological value.
The proposed project has a vision of making a productive outcome of these vacant land by reintroducing them as crop patches. Along with these patches the design proposal takes a systematic approach to design the infrastructure that supports like a backbone, to the functioning of the designed crop patches. These design interventions in the designated areas will enhance the public domain of the city and will help to maintain the ecological balance. The project is about intervention in three major parts which are the food centre, allotments and the streets. Crop Patch + means crop patches plus various necessary social and ecological interventions required for an overall sector design. It is done so that small changes can be made to improve the overall public domain and not only include allotments.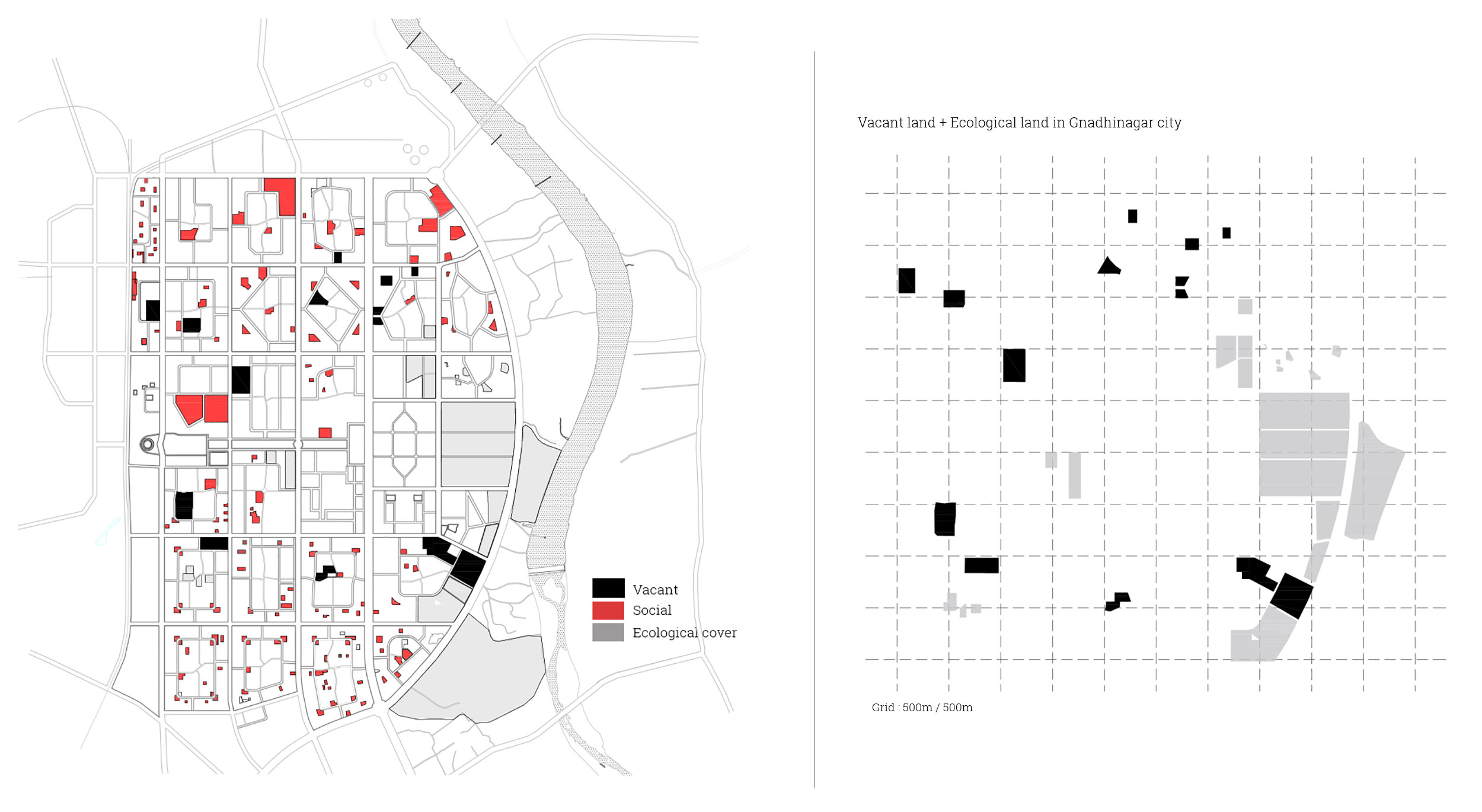 Sector 21
To precisely know how the crop patches would work one can take a single sector as a test site in this case, sector 21 is taken.

The overall land-use is such that residential is dominating the left part of the sector and commercial / social is together on the right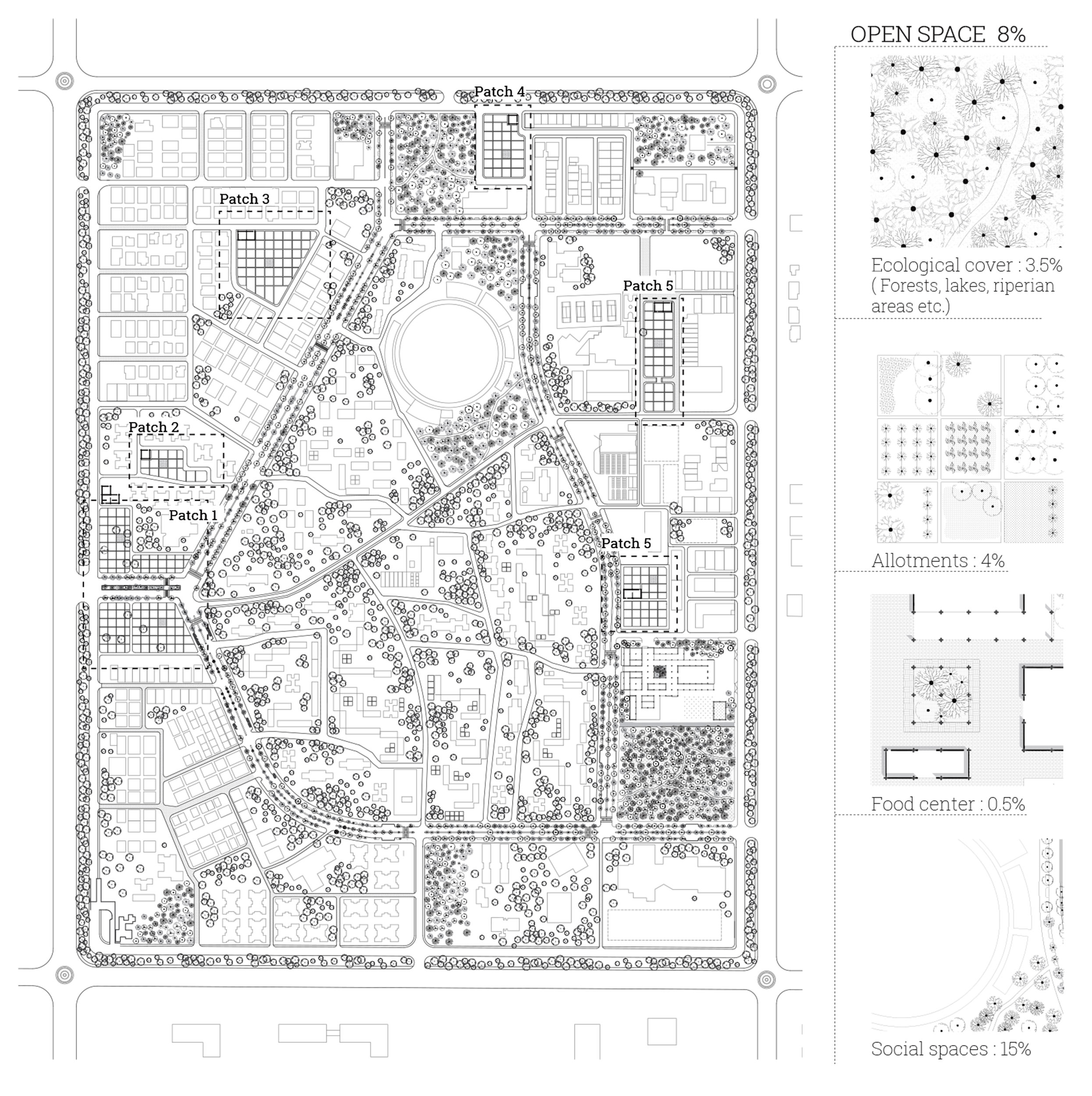 The total area of the sector is 819677 sq.km. The total open area under public domain is 63715 sq.km. , social space is at 117626 sq.km. . So, the percentage of social spaces is 15% of the sector area and open land is 8%. Therefore 8% of open land is available for Crop patches.
The project crop patch+ goes beyond the agricultural allotments and addresses the need of necessary social and ecological spaces required in a sector. In the sector 21, the open land which has some considerable ecological cover is at 8%, this is divided into three categories that is 3.5% is given to ecological cover which includes forests, lakes, riparian areas. 4% is given to the allotments, which is approximately 31,000sq.km. 0.5% is given to the food centre. Since the current open spaces is 15% of the total sector area it is left as it is.
Food Centre
The food centre enables people involved in agriculture by providing them with all kinds of necessary tools and agro based services and products. the centres also has a large scale storage facility which can store the food produce collected. The programs have three broad categories of commercial, research and utility based.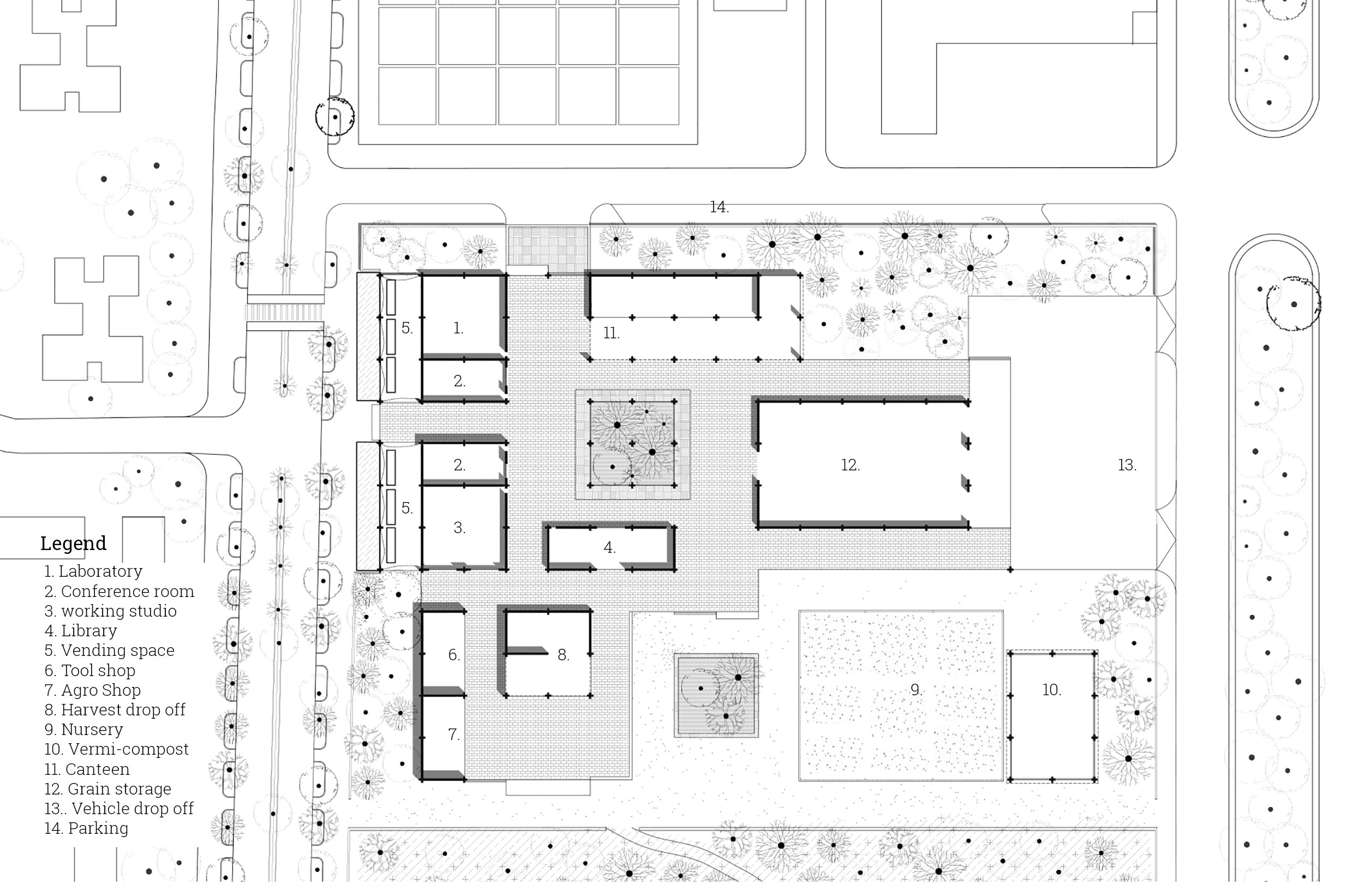 Allotments
Various agricultural opportunities are possible in the allotments. Here, in the catalogue there are many suggestions which broadly cater to edible functions, ornamental uses, experimental farming etc.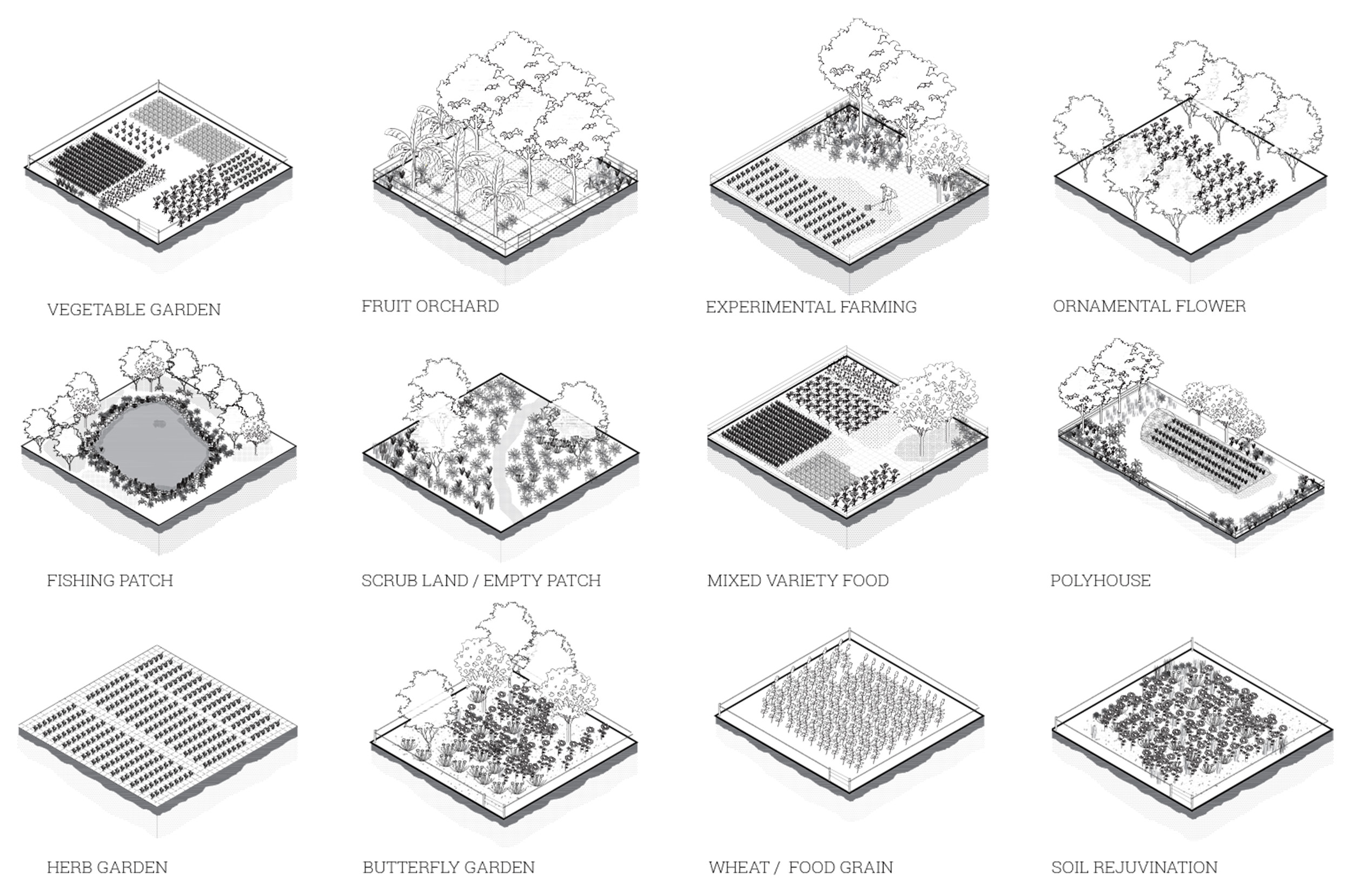 Apart from the basic 10X10 allotments, a user can acquire more allotments adjoining to his/her allotments to create a bigger space for whichever agriculture activity is intended by them. For example, if a user wants a more linear space, they can go for a 20X10 or 30X10 allotment group and for maximum space they can acquire 20X20 but not more. There is a limit maintained to avoid any sort of monopoly over the allotments by only a few people.

In the planting plan three different agricultural activities from the catalogue are demonstrated according to space and seasonality. The first column of plans depicts a mixed food strategy , also through this planting strategy each food crop's produce is enough for a family of four. It instructs a user on how they can make the most out of their 10X10. It has a combination of vegetables + fruit + pulses.
The second column of plans are of a fruit orchard, in a 10X10. And mostly the trees bear fruits during the summers, therefore the hatches.
The last column of plans showcases an experimental planting plan or a beginner's plan which demonstrates how a new grower can start growing food crops on their scrub lands. Through the seasons, a grower can acquire space and start by growing a few food crops and then gradually spread through time.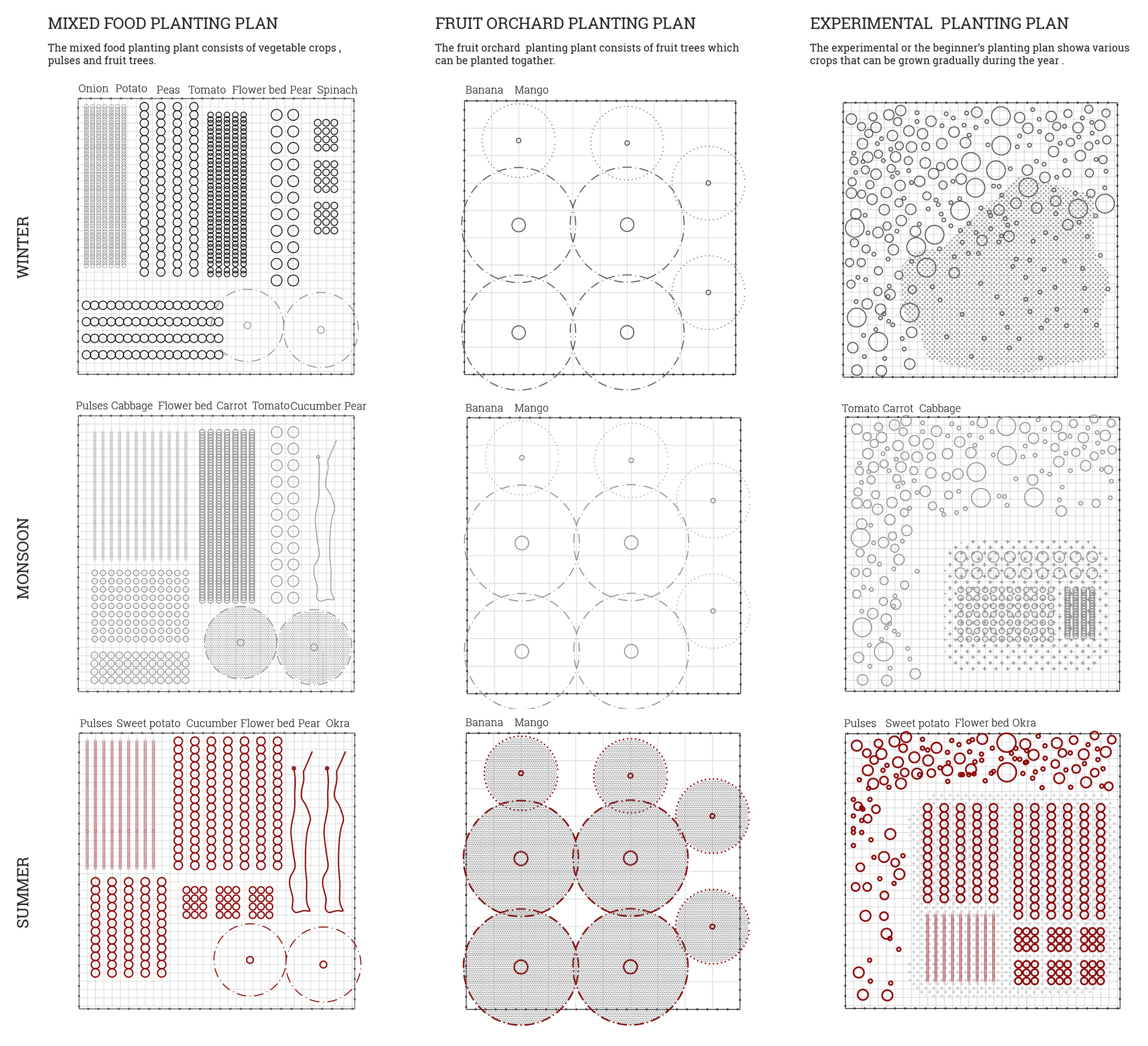 Allotments in action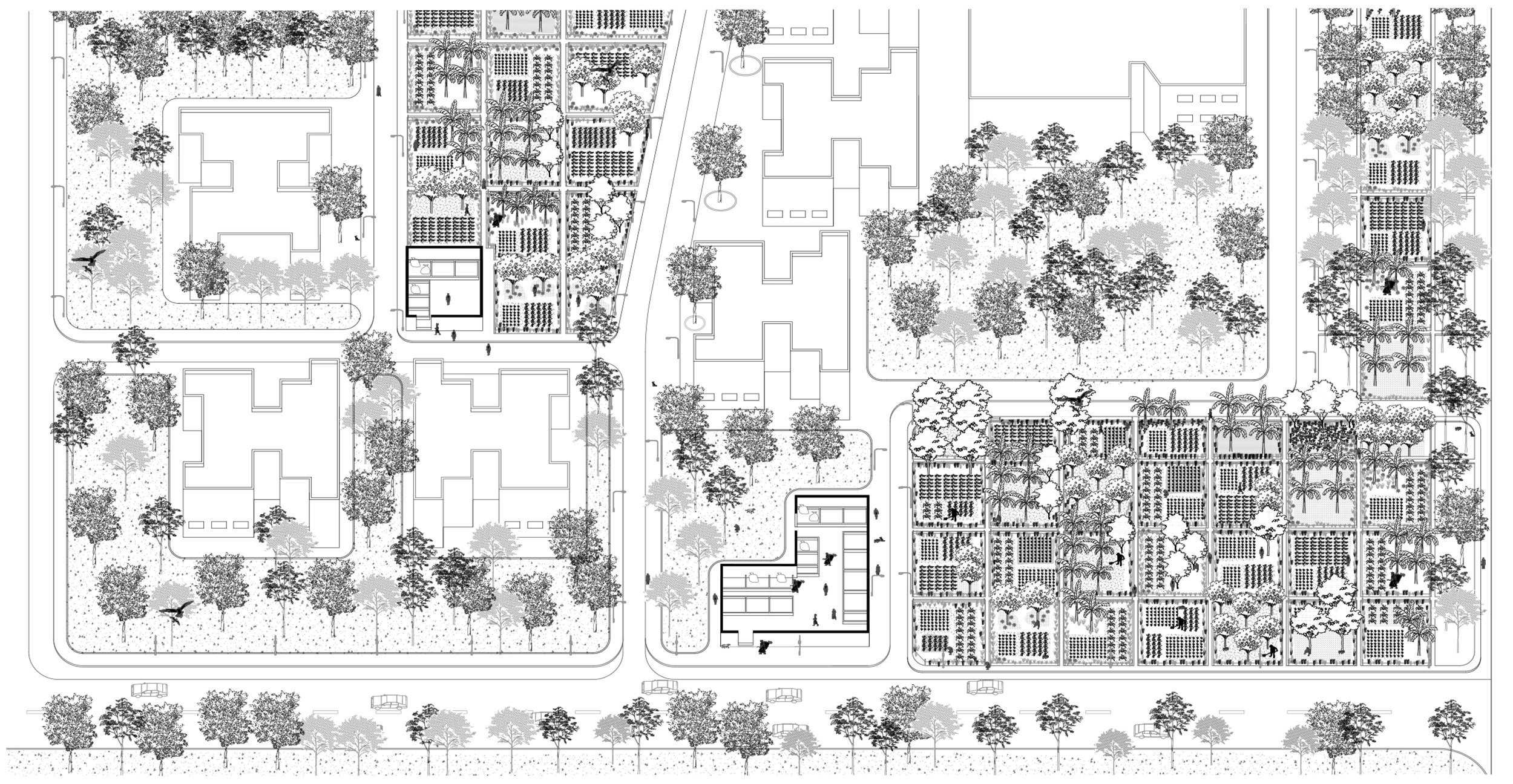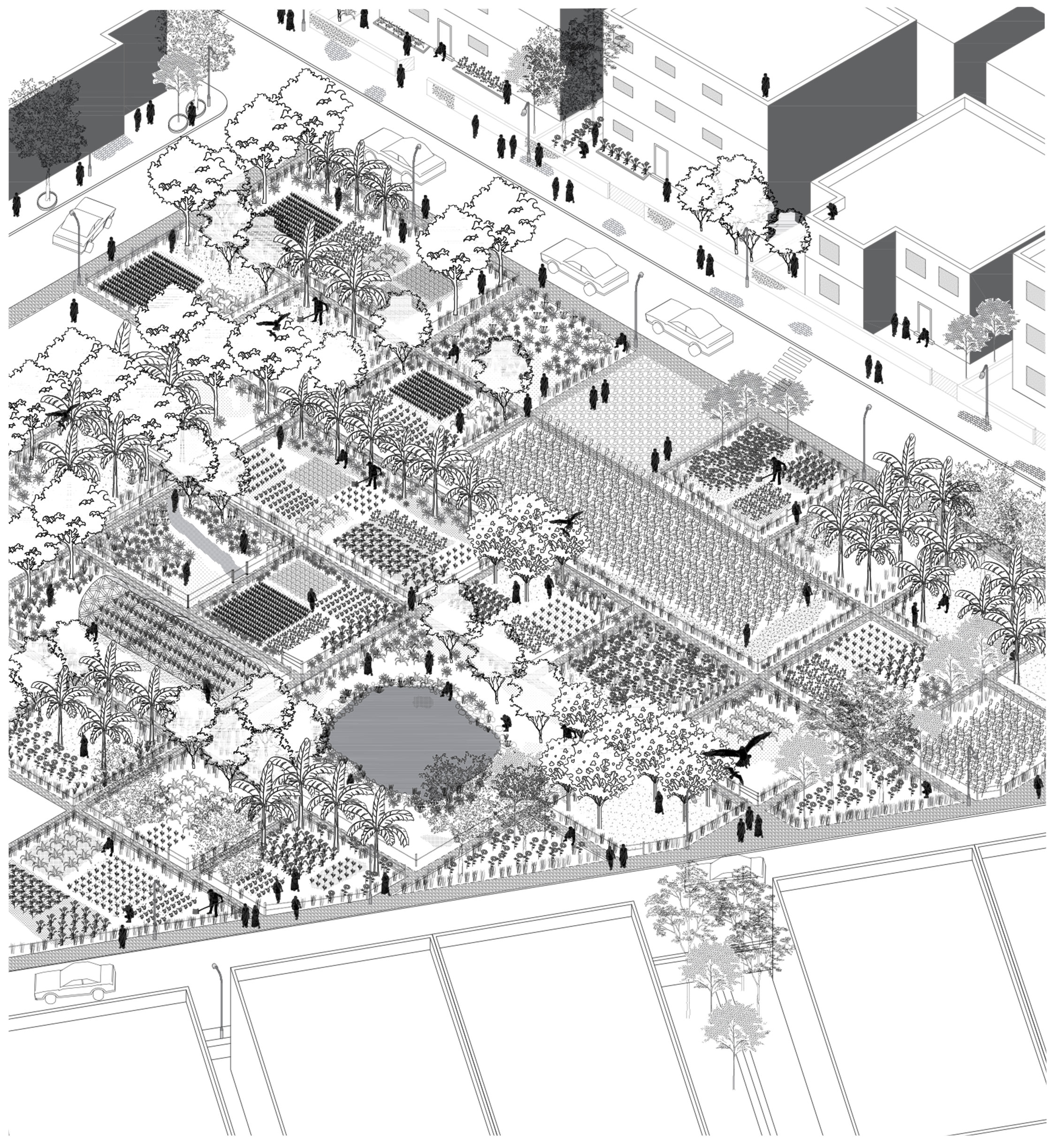 Streets
The major streets in the sector have a given ROW of 25 meters and 35 meters. In those streets, swales which help with storm water management are an addition along with well-defined pedestrian walkways. As the project has outline stated that the project is Cop patch +, meaning crop patches plus necessary social and ecological interventions. Therefore, various small changes have been made even in the streets which can help with the public domain enhancement in an overall sense.